If you want an ideal, harmonious and loving relationship
FREE YOURSELF FROM THE PAST AND
GET HARMONY IN YOUR RELATIONSHIPS
*A program sustained by Dorela Iepan, Emotion Code & Body Code Certified Practitioner, based on the experience with over 1000 clients on 1 to 1 sessions.
More than 70 people have participated in this program and enjoyed major changes in their lives.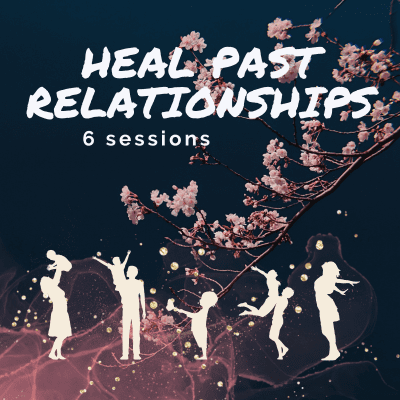 This is a 6-week program, but you can choose your own rhythm for the meetings, because we will book each one separately.
Meetings are recorded and you can review them for the next 3 months.
The program is based on experience of working with people, both in 1-to-1 sessions, workshops and group programs, and combines several types of "tools". But most of the time we work with the Emotion Code, the fastest and easiest way to free ourselves from trapped emotions, beliefs and blocks that prevent us from getting what we want.
First Session
Relationship with MOM
The First session is dedicated to your mother. 
Your mother gave you life. This is extremely important and is basically a gift that you will never be able to repay. And you don't have to. It is the natural flow of life.
Regardless of what your relationship with your mother was like, whether or not she was part of your life, we will work on trapped emotions related to your mother to allow for the harmonization of your present relationships.
Second Session
Relationship with DAD
The Second session is dedicated to your father.
Without your father and without the meeting between your mother and father, you would not have existed on earth. Just like your mother, your father is very important.
Regardless of the father's presence or absence in your life, trapped emotions influence you and limit the harmony of your life.
Third Session
Childhood and Relationship with Kids
The third session is dedicated to your childhood and to your relationship with your kids.
This session allows you to work on your own childhood (it certainly brings you a lot of joy to know that you can clear those painful memories from your childhood).
If you have children, you will surely be happy to know that you can work on your relationship with them and look forward to the changes.
Fourth Session
Couple Relationships
The fourth session is dedicated to your relationship with your partner and also your ex-relationships.
The good news is that it allows you to lessen or eliminate tensions that have built up over time.
If you are not in a relationship right now, well, it is possible that this very session will allow you to unlock the energies to meet the right partner for you.
Fifth Session
Relationship with Yourself and Your Body
The fifth session is dedicated to you, your relationship with yourself, and your body!
The most important person in your life is you!
And you can sometimes be your own worst enemy.
And now it's time to become friends!
Sixth Session




Chakra Alignment

Feedback
Q&A
The last session will end this beautiful journey of emotional release from the past, establishing an energetic balance in the body.
In this session, we will work on chakra alignment, followed by a debriefing.
We will also have time for sharing and questions.
What you get when you sign up:
The workbook for the entire program.
It contains specific explanations and questions for each Session, to help you become aware of important aspects related to each type of relationship we work on.
In addition, it will be very easy to quantify your progress, seeing how, after each session, certain situations or painful memories… almost no longer hurt at all.
Access to recordings for 3 months, so you can redo the sessions whenever you decide.
Many clients chose to resume certain sessions right during the program because they felt the need to release even more trapped emotions related to a certain topic.
And almost all of them resumed the whole program at least once more after it was over.
This is truly a wonderful gift because when you redo the sessions, a new series of emotions is released.
What is the value of the program?
5 Energetic Healing Sessions (Emotion Code) – Value 800€
1 Chakra Alignment Session + Q&A – Value 160€
Access to recordings that you can access for 3 months – Value 600€
Total value of the Program - 1560€
And you can access it today for 738€!
How much is your happiness worth?
How much time and energy do you waste looking for solutions to harmonize the important relationships in your life?
Join the HEAL PAST RELATIONSHIPS Program and enjoy the release of trapped emotions, beliefs, and blockages that prevent you from experiencing harmonious relationships.